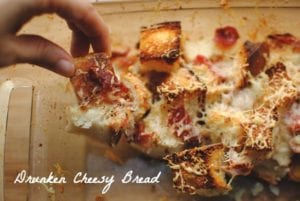 drunken cheesy bread
2017-11-01 13:46:21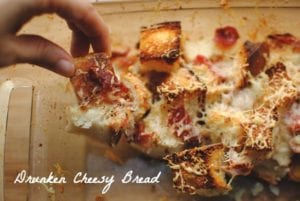 Ingredients
butter for greasing the pan
1/2 baguette, cut into 1-inch slices
1/2 small yellow onion, thinly sliced
1/8 pound thinly sliced prosciutto
3/4 cup or less of white wine
1/2 teaspoon black pepper
1 1/2 cups grated Manchego cheese
Instructions
Heat oven to 375° F.
Place the bread in a buttered ovenproof skillet, a 9-inch square baking dish, or a casserole.
Scatter the onion and prosciutto over the bread.
Pour the wine over the onion and prosciutto and sprinkle with the pepper and Manchego.
Bake until the cheese has melted and begun to browned at the edges, about 20-25 minutes.
Serve.
Notes
We like dry whites for this: Chardonnay (oaked or unoaked) or Sauvignon Blanc does nicely!
Also: Gruyère is a great option for cheese and ham can also be sneaked in when you don't want or don't have the prosciutto.
Adapted from Coffee, Light & Sweet
Wines By Design https://www.winesbydesign.biz/